Replacing your Porcelain Veneers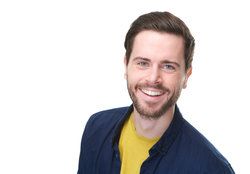 Porcelain veneers can be a quick and effective way to achieve a set of dazzling white teeth and a more beautiful smile. But unfortunately, while those thin shells of porcelain are surprisingly strong and durable, they can still be prone to breakage and other damage. Albuquerque cosmetic dentist Byron W. Wall is well versed in replacement procedures for porcelain veneers- but the more you know when you reach this stage, the more prepared you can be.
When Do My Porcelain Veneers Need to Be Replaced?
As technology has improved, porcelain veneers have been engineered to be more durable and last longer. Even so, most dentists agree that the average lifespan of porcelain veneers is around 10 to 15 years. With optimum care down to the letter, you may be able to extend that lifespan to as long as 20 years.
The lifespan of your veneers can be significantly shortened due to injury, or such mishaps or habits such as:
Chewing on Foreign Objects - Habitual chewing on hard objects like pen caps or ice can encourage weakening and breakage of your veneers, or can cause them to pop off altogether.
Bruxism- Chronic bruxism, also known as teeth grinding, can wear down and cause extensive damage to natural teeth, dental crowns, or porcelain veneers over time.
A Poor Fit - If your cosmetic dentist failed to perform a proper fitting the first time around, you could end up with a set of porcelain veneers that are too big or too small for your mouth and the natural teeth that support them. This can lead to veneers failing much sooner than expected.
The process for refitting and replacing porcelain veneers is very similar to having them placed the first time. After removing your current veneers and leftover bonding material, your cosmetic dentist can either make a new impression cast and mold of your teeth or use your original cast from your first veneer fitting, then fabricate and bond your new set.
How Much Do Porcelain Veneer Replacements Cost?
When you first had porcelain veneers placed, you probably had to pay completely out of pocket - this is common, as most dental insurance providers consider porcelain veneers to be solely a cosmetic procedure.
But this may not be the case for replacing your porcelain veneers, especially if enamel was filed away from your natural teeth to aid in the fitting and placement of your original veneers. Once this has happened, it is impossible to go back to using your natural teeth with the same functionality as they had before your veneers - in this case, replacing your veneers is not so much cosmetic as a dental necessity. Many insurance providers recognize this fact, and may therefore cover some of the costs of the replacement of porcelain veneers. If you need to replace your veneers, be sure to contact your insurance provider to find out if you are covered.
Learn More about Replacing Your Porcelain Veneers
Replacing your porcelain veneers doesn't have to be a frustrating experience. With the right cosmetic dentistry team, like our skilled and friendly team at Cosmetic Dentistry of New Mexico, the process can be quick and worry free. Contact Byron W. Wall, DDS, at Cosmetic Dentistry of New Mexico today to schedule an appointment and learn more about replacement options for your porcelain veneers.
Related to This